A Full-Service Waste Disposal service provider for the Greater New Orleans area.
River Parish Disposal offers a range of cost-effective contract and short-term waste collection and disposal services to commercial and residential customers, event rentals and the area's largest selection of waste receptacles and roll-off containers. Our trained drivers are always safe, courteous, respectful and professional, and our waste collection, transfer and disposal services are always operated in a manner conforming to all safety laws and within EPA compliance.
Let's Talk Trash. 504.738.7700
Starting service is simple. Just call River Parish Disposal at 504-738-7700 or send a request for information from our contact page. River Parish Disposal's friendly, expert customer service agents are committed to making sure our service exceeds your expectations. Throw Your Garbage To The Gator!
Handicap Portable Toilets
Designed to support special needs individuals.
Wheelchair Accessible, Handicap Toilets
Garbage Trucks
Garbage Trucks
Front & Back Loading Garbage Trucks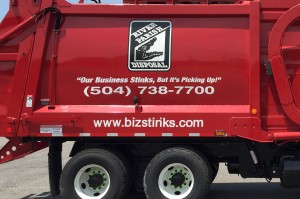 Locally Owned & Family-Operated for more than 35 years
River Parish Disposal is the leading full-service waste disposal service provider in the Greater New Orleans area. Founded by the Gator, Weldon Frommeyer, with one truck and one employee, himself, today River Parish Disposal has the largest fleet of garbage trucks and containers in the Gulf South. Wife Loretta, son Brother, son-in-law Danny, and over 110 employees now work with the Gator at River Parish Disposal, and the company collects at hundreds of locations in parishes across South Louisiana every day.
I just wanted to let you know how pleased we were with River Parish Disposal's services. We rented a container from you in December and it was delivered when we requested and picked up the very same day. I called three other disposal companies and no one even bothered to call me back. Once again, thank you for your great service. We will recommend you to our friends.
We have always enjoyed doing business with River Parish Disposal. Weldon has always stood by what he says. Of course the employees in the company always make him proud.
Many thanks for your ability to accommodate our needs to such short notice. Our work cleaning the Colton School on behalf of the RSD will move us toward opening an arts education facility.
Our condominium association is a brand new customer. I think the 3-yard container was delivered yesterday. Anyway, when my husband took out the trash (his job) last night he said the dumpster was so full he could not fit another thing in it. No problem, I would just call River Parish Disposal in the morning. As fate would have it I left the complex about 5:15 this morning and one of your trucks passed down Cambronne onto Oak Street. I followed it to Maple Leaf and told Theo the driver my problem. He would not have been more helpful. He checked his list, called his dispatcher a few times and then followed me around the corner to pick up the trash. The rider immediately determined it was a front loader and they could not help me but said they would call it in. Well, when I got home an hour later the pick up had been made! I just wanted to let you know how much I appreciated Theo and his rider taking the time to try to solve the problem. They must have begun their day with a hundred stops to make. River Parish apparently stresses the importance of customer service. I know we chose the right company!
I am writing to thank you for the kindness and assistance given to me by one of your drivers early on the morning of Friday, February 23rd. I go out about 6am every day to walk my dog. It is my habit to pick up trash, particularly plastic, in the grates to our drains as I walk. On the 23rd, I had a misstep trying to pick up a small container lodged in the grate and fell. Your driver could have gone right past, but he did not. He stopped and came to help me. Fortunately, I was not seriously hurt and got back on my feet. Your driver gave me good advice ("wait until the grass dries off'), got back in his truck and left before I thought to get his name. I would like you to know about this kind person who works for you, and for you to thank him again for this 80-year-old person he stopped to help.
On behalf of High Hopes Animal Adoption Center, thank you River Parish Disposal for your generous donation of "poop bag" holders. They really helped to make our adoption day a success (3 dogs were adopted.)