What Are Restroom Trailers?
When we're attending a special outdoor event and nature calls, we need a place to answer it. Portable potties can accomplish the task, however, restroom trailers can accommodate more people at once and enhance your event by giving attendees a better overall experience. These trailers come in a variety of sizes, are air-conditioned, ventilated, have separate facilities for men and women, as well as they can be used at various events.
How Can They Enhance Your Next Special Outdoor Event?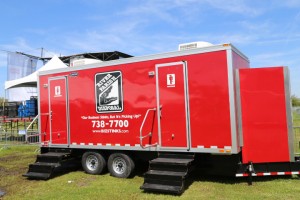 Louisiana has a festival to celebrate just about everything that makes our state a wonderful place to live in. In true Louisiana joie de vivre, plenty of food and drink, as well as live music, are staples at these festivities. VooDoo, Jazz Fest, and other outdoor weekend-long music festivals draw so many tourists along with the local crowds. Fundraising events also draw large crowds, as do marathons, triathlons, races, school fairs, church bazaars, university events, state fairs, flea markets, and so much more.
There is a restroom trailer that measures 8'6"w x 12'l. This facility contains a wash basin and 2 toilets for the women. However, for the men, there is a wash basin, a toilet, and a urinal. The next incremental measurement is a trailer that is 8'6"w x 16'l. In this unit, the men's section contains a urinal trough, a toilet, and a wash basin. The women's section remains the same. An 18'l unit contains 3 toilets and 2 sinks for the ladies. Where there are 3 urinals, 1 toilet, and 1 wash basin for the gentlemen. The largest restroom trailer is 20'l. In the women's accommodations, there are 4 toilets and 2 wash basins. The men's accommodations has 1 wash basin, 1 urinal trough, and 2 toilets. The only thing missing is someone attend the restrooms and direct the traffic!
For your next event, contact River Parish Disposal for your restroom trailer at 504.738.7700.