If you are redoing your concrete for your Driveway, Walkway, or Sidewalk, you may want a River Parish Disposal Dumpster.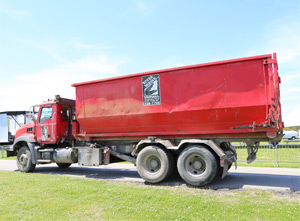 With all of the majestic oak trees around town, they come with enormous root systems. There enormous root systems wreak havoc on our sidewalks, walkways, and driveways. However, these glorious trees are not the only culprits. The soil supporting the weight of the concrete begins to either shrink or wash away over time, causing the concrete to break apart. Not only is this unsightly, but it can cause someone to get injured.
Different soils have varying weight-bearing capacities. As the weight-bearing capacity is surpassed, the soil begins to compact and settle. The soil beneath a slab can also settle on its own. Soil predominantly comprised of either clay and/or silt will compact significantly after it has dried. When soil compacts beneath a concrete slab, the slab begins to crumble due to the lack of support. Water can also wash away the soil beneath your driveway, walkway, or sidewalk. As the soil washes away, a void is created causing the concrete to cave in or sink.
There are numerous ways to rectify this situation. When minor cracking occurs, the cement can be camouflaged by resurfacing or engraving the concrete. When tree roots have your sidewalk looking like Monkey Hill, it's time to call in the jackhammers and break up that concrete. Then comes the removal of the concrete, and that's when a dumpster comes into play. River Parish Disposal has dumpsters to do the job! Our roll-off containers are generally used for construction debris and come in various sizes – 15, 20, 30 & 40 yards. 20 yard containers are recommended for concrete, asphalt, dirt and roofing materials for weight purposes.
Give us a call at 504-738-7700 or email us at lilgator@bizstinks.com and let a River Parish Disposal representative help you pick the size that best suits your needs.
Throw Your Garbage To The Gator!