Get Ready For An Adventure!
The eagerly anticipated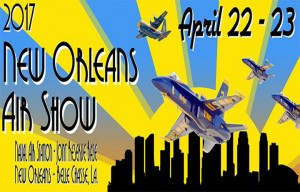 New Orleans Air Show is coming to town on April 22nd & 23rd, 2017. The show opens each day at 8 am at the NASJRB New Orleans, 400 Russell Ave New Orleans, LA 70037 with FREE parking and FREE admission!
Come Out And See The Blue Angels Fly
The Naval Air Station Joint Reserve Base New Orleans, in Belle Chasse, La., will host the 2017 New Orleans Air Show from April 22-23, featuring the Blue Angels Navy Flight Demonstration team. The Blue Angels are the United States Navy's flight demonstration squadron, with aviators from the Navy and Marines.
An Experience Of A Lifetime
In addition to the Blue Angels, numerous flight demonstration aircraft, parachute teams and a jet-powered truck are scheduled to perform.  As in years past there will be static display aircraft and other military hardware on the flight line to view, along with special areas for younger attendees.  In addition to the air show, spectators can enjoy a collection of aircraft on display, virtual games and other attractions/displays at vendor booths, food booths, souvenir booths, and a kids' fun-zone!
The Kid's Zone will feature a quad jump, paintball shoot out, rock wall, space camp combo, obstacle course, bounce houses and more. The Sony Playstation Truck will be bringing the latest and greatest in PlayStation gaming to the Air how by way of a 16-wheeler truck that unfolds like a Transformer. Don't miss your opportunity to go hands-on with some amazing games and experiences. Take home exclusive PlayStation items only available on the PS4 truck.
River Parish Disposal will be out at the New Orleans Air Show supplying Portable Toilets, Hand Wash Stations, as well as Trash Removal. River Parish Disposal loves Louisiana and believes in giving back to our community whenever we can.  We are excited about the 2017 New Orleans Air Show and hope to see everyone this weekend.
For more information go to www.neworleansairshow.com.